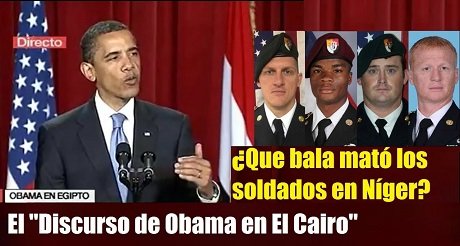 ¿Que bala mató los soldados en Níger? No busque más allá del discurso de Obama en El Cairo.
Video fuente RTV.es Jun 4, 2009 Discurso de Obama en el Cairo
Artículo relacionado con ¿Que bala mató los soldados en Níger? No busque más allá del discurso de Obama en El Cairo
Soldados estadounidenses murieron en Níger a causa de Obama
Las fuerzas estadounidenses en Níger estaban allí proporcionando "asesoramiento y asistencia a las operaciones de contraterrorismo de las fuerzas de seguridad nigerianas". Las misiones de "asesorar y ayudar" fueron un elemento básico del contraterrorismo de la era Obama. Incrustar tropas estadounidenses dentro de las fuerzas locales que pueden ser poco confiables o comprometidas conlleva riesgos obvios. Pero la doctrina de Obama pone las relaciones públicas por delante de las vidas de los soldados estadounidenses. Esa doctrina costó innumerables vidas.
Las muertes en Níger también tuvieron un origen más profundo en las políticas y alianzas islamistas de Obama.
"Our forces were reportedly targeting the Islamic State in the Greater Sahara.
Según los informes, nuestras fuerzas estaban atacando al Estado Islámico en el Gran Sahara. "ISGS, which has pledged allegiance to ISIS, is another Arab Spring baby.
ISGS, que se ha comprometido a lealtad a ISIS, es otro bebé de primavera árabe. "Adnan Abou Walid al-Sahraoui, its leader, had formerly served as the spokesman for the Movement for Oneness and Jihad in West Africa (MUJAO) which was a splinter group of Al Qaeda.
Adnan Abou Walid al-Sahraoui, su líder, había servido anteriormente como portavoz del Movimiento por la Unidad y Jihad en África Occidental (MUJAO), que era un grupo disidente de Al Qaeda. "MUJAO was one of the Jihadist movements empowered by Obama's illegal invasion of Libya.
El MUJAO fue uno de los movimientos yihadistas fortalecidos por la invasión ilegal de Libia por parte de Obama. "In the wake of the Libyan disaster, Jihadists seized control of large parts of Mali.
Tras el desastre de Libia, los jihadistas tomaron el control de grandes partes de Mali.

"The French took the lead in fighting the Islamist forces.
Los franceses tomaron la delantera en la lucha contra las fuerzas islamistas. "Obama led from behind by deploying American personnel to support the French effort.
Obama lideró desde atrás desplegando personal estadounidense para apoyar el esfuerzo francés. "And that's still the case.
Y ese sigue siendo el caso. "In Niger, we're there to assist the larger French force.
En Níger, estamos allí para ayudar a la fuerza francesa más grande. "And so when our soldiers came under fire, they had to rely on the French for air support and evacuation.
Y entonces, cuando nuestros soldados fueron atacados, tuvieron que depender de los franceses para apoyo aéreo y evacuación. "Those are the consequences of Obama 'leading from behind'.
Esas son las consecuencias de que Obama "lidere desde atrás".

"Our forces were outnumbered.
Nuestras fuerzas fueron superadas en número. "French air support proved unable to offer useful help, but did succeed in evacuating the survivors.
El apoyo aéreo francés demostró ser incapaz de ofrecer ayuda útil, pero logró evacuar a los sobrevivientes. "And the ambush raises questions about whether ISGS got lucky, or whether it was a setup.
Y la emboscada genera dudas sobre si ISGS tuvo suerte, o si fue una configuración. "The Democrats suddenly seem very eager to find out exactly what happened, but whatever happened was due to policies and programs put into place by their own leader.
De repente, los demócratas parecen muy ansiosos por descubrir exactamente lo que sucedió, pero lo que sea que haya sucedido se debió a las políticas y programas implementados por su propio líder.

"Obama's Arab Spring regime change project and the illegal Libyan regime change operation that followed unleashed regional Islamist aspirations.
El proyecto de cambio de régimen de primavera árabe de Obama y el régimen ilegal de Libia cambian la operación que siguió a las aspiraciones islamistas regionales desencadenadas. "Mali nearly fell because of Libya.
Mali casi se cae por culpa de Libia."American soldiers in Niger were killed by Islamist terrorists from a group led by the spokesman for that invasion.
Los soldados estadounidenses en Níger fueron asesinados por terroristas islamistas de un grupo liderado por el portavoz de esa invasión.

"But it's not just about ISGS.
Pero no se trata solo de ISGS. "One reason we're in Niger is because we can't be in Nigeria.
Una razón por la que estamos en Níger es porque no podemos estar en Nigeria.

"Boko Haram's Jihadists have killed thousands of Christians in Nigeria.
Los yihadistas de Boko Haram han matado a miles de cristianos en Nigeria. "While the genocide continued, Obama officials worked hard to obstruct any effort to name Boko Haram a foreign terrorist organization.
Mientras el genocidio continuaba, los funcionarios de Obama trabajaron duro para obstruir cualquier esfuerzo por nombrar a Boko Haram como una organización terrorista extranjera. "Only when the mass kidnapping of girls led to the #BringBackOurGirls awareness campaign, did some of the more overt obstructionism by Obama and his political cronies stop.
Solo cuando el secuestro masivo de niñas condujo a la campaña de concientización #BringBackOurGirls, se detuvo algo del obstruccionismo más evidente de Obama y sus compinches políticos. "But it certainly didn't end.
Pero ciertamente no terminó.

"Obama Inc. repeatedly hectored Nigeria for being too tough on Boko Haram.
Obama Inc. rechazó reiteradamente a Nigeria por ser demasiado duro con Boko Haram. "It refused to waive the Leahy amendment which meant that the United States (and even Israel) couldn't sell weapons to Nigeria and had a great deal of difficulty in training Nigerian forces.
Se negó a renunciar a la enmienda Leahy, lo que significaba que los Estados Unidos (e incluso Israel) no podían vender armas a Nigeria y tenían muchas dificultades para entrenar a las fuerzas nigerianas. "While we couldn't be in Nigeria because its soldiers insisted on killing Boko Haram terrorists instead of locking them up in a Cuban resort and supplying them with all the Harry Potter novels they could want, we could be in Niger.
Si bien no podíamos estar en Nigeria porque sus soldados insistieron en matar a los terroristas de Boko Haram en lugar de encerrarlos en un centro turístico cubano y suministrarles todas las novelas de Harry Potter que podrían querer, podríamos estar en Níger.

"And so we're in Niger.
Y entonces estamos en Níger.

"The Nigerien (as opposed to Nigerian) military hadn't rubbed Obama the wrong way.
El ejército nigeriano (en oposición al nigeriano) no frustró a Obama por el camino equivocado. "And so the American presence in Niger grew.
Y así creció la presencia estadounidense en Níger. "We now have some 800 soldiers there and a sizable drone base.
Ahora tenemos unos 800 soldados allí y una gran base de drones.

"Deploying large numbers of personnel into a terror zone without a plan to take the fight to the enemy is a bad idea.
Desplegar grandes cantidades de personal en una zona terrorista sin un plan para llevar la lucha al enemigo es una mala idea. "When the Nigerien forces came under attack by as many as fifty fighters with RPGs and heavy machine guns, our soldiers were left exposed, with no one to rely on except the French.
Cuando las fuerzas nigerianas fueron atacadas por hasta cincuenta combatientes con juegos de rol y ametralladoras pesadas, nuestros soldados quedaron expuestos, sin nadie en quien confiar excepto los franceses. "They were there officially for training and surveillance, but they were on the front lines instead. Estaban allí oficialmente para entrenamiento y vigilancia, pero estaban en primera línea.

"Congresswoman Wilson and other Democrats would like to blame President Trump for the deaths in Niger.
La congresista Wilson y otros demócratas quisieran culpar al presidente Trump por las muertes en Níger. "But the trouble in Niger has Obama's fingerprints all over it from the Arab Spring to the "Advice and Assist" missions that aren't technically combat missions, but often incorporate combat anyway.
Pero el problema en Níger tiene las huellas dactilares de Obama desde la Primavera Árabe hasta las misiones de "Asesoramiento y Asistencia" que no son técnicamente misiones de combate, pero a menudo incorporan el combate de todos modos.

"The ambiguity was there to cover Obama's fundament.
La ambigüedad estaba allí para cubrir el fundamento de Obama. "It's time to scrap it along with the rest of his policies.
Es hora de eliminarlo junto con el resto de sus políticas. "The Arab Spring genie may be hard to put back in the box and we need to seriously think about what we're doing in places like Niger and whether we have a plan to win that isn't dependent on the locals.
El genio de la Primavera Árabe puede ser difícil de poner en la caja y tenemos que pensar seriamente sobre lo que estamos haciendo en lugares como Níger y si tenemos un plan para ganar que no dependa de los locales. "Obama didn't.
Obama no. "Instead his counterterrorism policy marked time.
En cambio, su política antiterrorista marcó el tiempo. "From Africa to Afghanistan, it wasn't about victory, but an inoffensive containment.
De África a Afganistán, no se trataba de victoria, sino de una contención inofensiva. "And that meant not being too aggressive.
Y eso significaba no ser demasiado agresivo.

"If we are going to have forces in Niger or any other war zone, they should have air support and the widest latitude for defending themselves.
Si vamos a tener fuerzas en Níger o en cualquier otra zona de guerra, deben tener apoyo aéreo y la mayor libertad para defenderse. "President Trump's policies didn't kill four Americans in Niger.
Las políticas del presidente Trump no mataron a cuatro estadounidenses en Níger. "Obama's appeasement of Islamists and the anti-war left exposed American soldiers to harm.
El apaciguamiento de Obama de los islamistas y la izquierda en contra de la guerra expusieron a los soldados estadounidenses al daño.
Artículos y videos relacionados con ¿Que bala mató los soldados en Níger? No busque más allá del discurso de Obama en El Cairo
Soldados estadounidenses murieron en Níger a causa de Obama
El Presidente más ANTI-CRISTIANO de América
TV Libertad aboga por la libertad y la democracia para Cuba y el mundo, dentro de un marco cultural que sea consecuente con su fomento y preservación.