Cuban dissidents long to hear Pope Francis preach religious liberty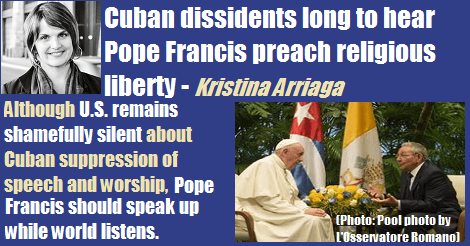 Although U.S. remains shamefully silent about Cuban suppression of speech and worship, Pope Francis should speak up while world listens.
For instance, mum has been the word when it comes to the arrest of young Cuban graffiti artist, "El Sexto." According to reports smuggled out of Cuba, El Sexto, who has a wife and infant daughter, was imprisoned last December on a charge of contempt for having tried to carry out a performance with two pigs painted with the names of "Fidel" and "Raul." Months after his arrest he has not been taken before a court. A few weeks ago according to his mother, he went on a hunger strike.
El Sexto's type of dissidence and civil disobedience is something Americans would not have stood for had it happened in the U.S. in the 1960s or in South Africa during Apartheid. And yet, the U.S. remains silent. It also remains silent in the case of African-Cuban doctor Oscar Elias Biscet, an Amnesty International prisoner of conscience, who has been imprisoned multiple times for his peaceful protests against the Castro regime. He has endured over 11 years of prison and has lost most of his teeth due the beatings and the horrible conditions in the gulags of the island. For all the claims the Castro regime has made in defense of the black population in Cuba, many of its bravest dissidents are black including Berta Soler, the leader of the Ladies in White, a defiant group of Cuban women who dress in white and walk together to mass on many Sundays. This summer they were the victims of several brutal beatings.
Artists and journalists such as Cuban exiled novelist Orlando Luis Pardo Lazo, and Time magazine-lauded blogger, Yoani Sanchez, who still dares to live in Havana, have consistently tried to appeal to the world and to our government for freedom of speech as the virtues of openness between the U.S. and Cuba continue to be universally extolled. But to no avail.
Our government remains silent, or at most, will tweet its disappointment at arrests here and there but continues forging ahead with a plan that will benefit the Castro thugs but not the people of Cuba. This month these dissidents hope, as do I, that while Pope Francis remains in Cuba, he will call for freedom of speech and of worship, and for the kind of openness that his Polish predecessor, Pope John Paul II spoke about frequently when, in 1998, he was the first Pontiff to visit the island. They hope that Pope Francis will recall his own experiences in Argentina and will extend the hand of solidarity to those who lack a voice.
They hope, against all hope, that the Pope will disavow the strange and inaccurate words of Cuban Cardinal and Havana Archbishop, Jaime Ortega, who recently stated that there were no political prisoners in Cuba while 60 dissidents languished in prison. They hope for the Spanish version of the Hebdo "Je suis:" They hope to hear the Pope say: "Yo, yo soy cubano." "I, too am Cuban." And invite the rest of the world to do the same with El Sexto, with Berta and the Ladies in White, with Dr. Biscet, with Yoani and with so many others who have earned and richly deserve the world's solidarity.
Kristina Arriaga is executive director of the Becket Fund for Religious Liberty.
In addition to its own editorials, USA TODAY publishes diverse opinions from outside writers, including our Board of Contributors.To read more columns like this, go to the Opinion front page.